Home | Donate | Honorees | Supporters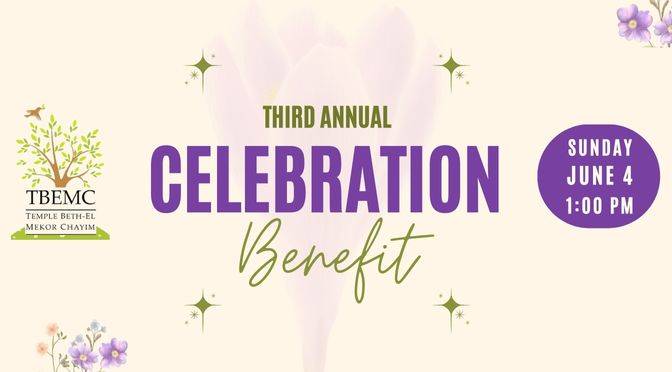 Join us Sunday, June 4th, at 1:00 pm for our
Third Annual Celebration Benefit
as we honor:
---
Volunteer of the Year
Carol Blank says she chronicles dates and events in the context of her son Evan's birth. That brings her to her earliest memory of TBEMC, attending Rosh Hashana services with her 3-month-old. He wore the kippah her mother crocheted to match his outfit, "an overly-expensive knit garment worn for that occasion and for the photo taken the following week." The outfit is not forgotten; it now sits wrapped in her attic.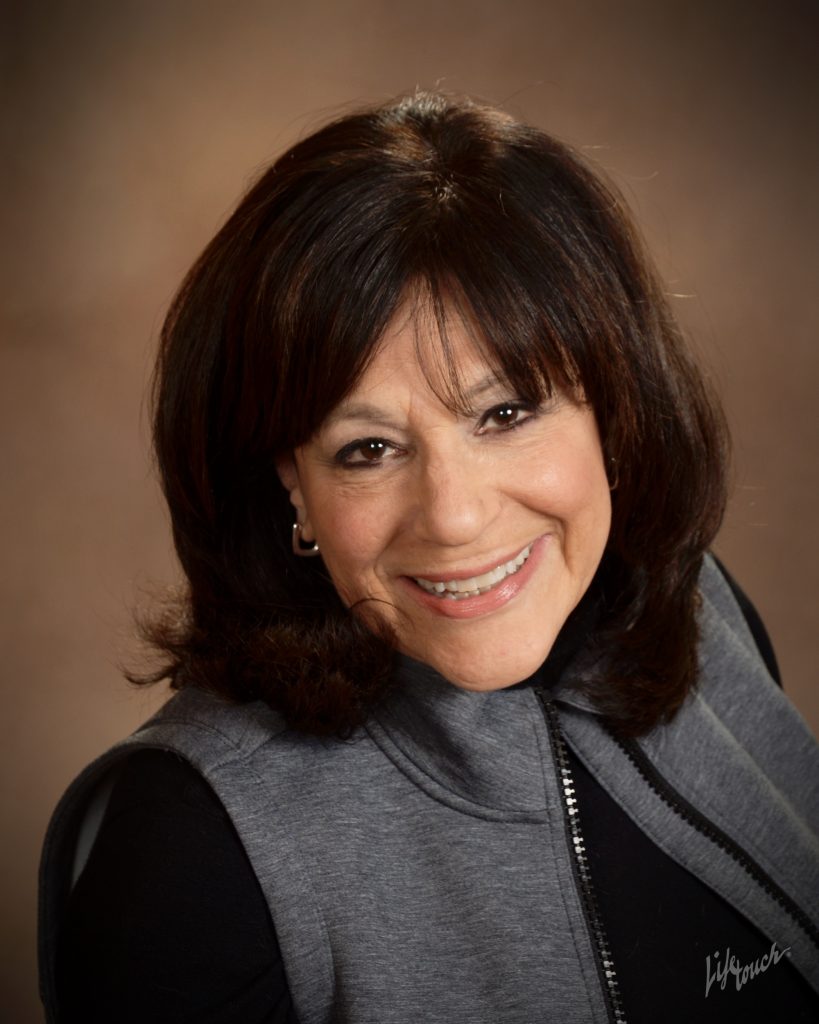 As Evan began Religious School at the age of 5, Carol began participating in temple events on Sunday mornings, like Pizza in the Hut and Purim carnivals. She also volunteered at the Religious School, and responded to requests for help. When office administrator Susan Lemerman asked if she would call potential advertisers for the bulletin, she happily obliged. When a plea went out to help with shopping and plattering for Friday and Saturday kiddushim, Carol responded. When Sandy Springer requested her help with a Goods and Services Auction, Carol stepped up.
Carol says she mostly pitches in when help is needed. She can't remember everything she's done, but "I'm not sure how I ended up on the Capital Improvements Committee one year. Someone must have asked, because I'm not the volunteer type. In fact, I don't think I ever volunteered for anything. I just didn't say no when asked," she says. Carol doesn't consider herself to be a leader "but I am a pretty good worker bee, especially as one of Sisterhood's co-presidents." Carol is happy to remain on the sidelines, helping when and where needed.
One area where she's been a regular presence is at minyan, helping those who need to say Kaddish. She sees it as paying back those who were there for her. "Now I'm not sure if I go for me or them. It just feels good," she says.
Professionally, her adult life has been dedicated to pursuing children's emotional safety and healthy social and psychological development. She was a guidance counselor and social worker before becoming a mother.
In 2000 she began an anti-bullying campaign and company, Utterly Global Youth Empowerment. The ultimate goal was to empower young people to become caring and confident with the ability to make socially responsible decisions. She co-authored Virgil: The Bully from Cyberspace, a book endorsed by Roscoe Ormond, who played Gordon on Sesame Street. She has addressed and trained New Jersey school resource officers, social workers, government officials and educators from around the country, including those at an Indian reservation in Wyoming. "I feel truly fortunate to be able to work at something every day that reflects my core values. It makes me feel alive and connected to what I believe is important." Currently, Carol is a facilitator in Union and Middlesex counties for New Jersey Child Assault Prevention, which allows her to continue helping to teach children to be safe.
---
Volunteer of the Year
It was a momentous day for the Finkelstein family when Joanie, Sonny, Steven, and Lori arrived in Cranford from Pelham Parkway in December 1967. The addition of Seth, a few years later, happily completed their family in Cranford.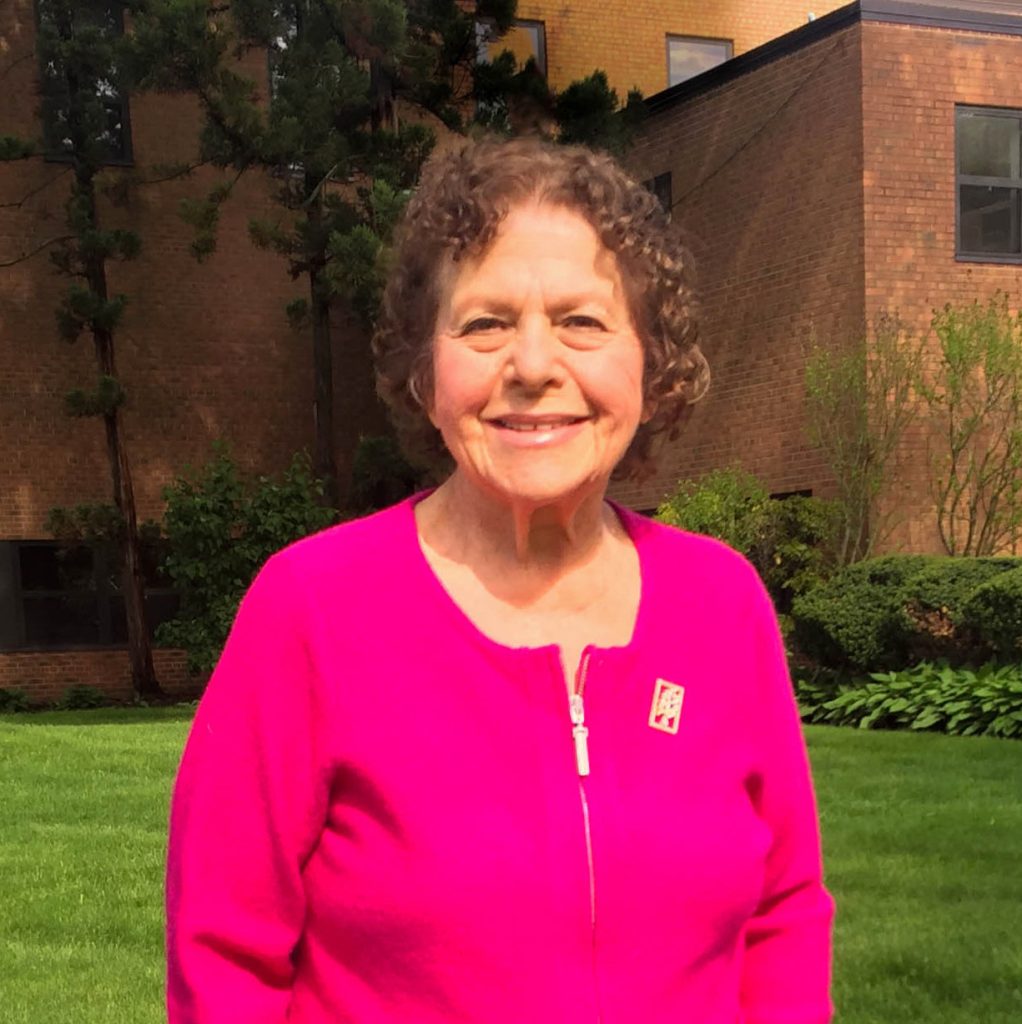 One of the most important things the Finkelsteins did was join Temple Beth El and immediately become involved. Joanie was missing her beloved Pelham Parkway, and the synagogue community in Cranford was a wonderful immediate connection. Joanie's husband Sonny (Zave) was quickly invited to join the synagogue's Youth Commission and Membership Committee. Though busy commuting and working on Wall Street, he of course said yes, and the family's entree into synagogue volunteering began!

Shortly thereafter, Joanie and Sonny were hosting USYers in their home, chaperoning dances, and meeting lots of new congregants who ultimately become their "forever friends." With a busy household of three young children, Joanie was in the midst of carpooling to lessons and activities of all kinds and running a very busy household. But when called upon to co-chair children's parties for Sisterhood, she of course said yes.

Since Joanie's background was in early childhood education, the synagogue found a perfect fit for her talents with engaging children. One day at an event Joanie had planned for the Hebrew school, the rabbi kindly acknowledged her effort. When she heard one of her children proudly exclaim "that's my mommy!", her role as a synagogue volunteer was forever sealed.

Over many years, Joanie has served as Sisterhood's vice president of membership, vice president of programming, and co-chair of fundraising. She also served on the Board of Trustees for many years, been on many Nominating Committees, volunteered in the Religious School, participated in We Care, and found endless joy in being with all the little ones at Bagels & Babies, where her love for children is always evident.
While Joanie's kitchen volunteering was supposed to be temporary, her love for her friends there resulted in her becoming a permanent volunteer. Her treasured co-buddy Carol has provided her with endless laughs and a cherished friendship. Any time spent with Carol is a joy!

Anyone who knows Joanie in the synagogue knows that she treasures her children and grandchildren. The joy, happiness, and pleasure they bring her is priceless and such a part of who she is. She delights in all their accomplishments and is grateful every day for her loving family.

Joanie is filled with gratitude and thankfulness for the honor of being part of the TBEMC community and truly delights in being able to volunteer and share her life with all of you. There is nothing better!

Joanie congratulates her co-honorees. She is filled with pride to be standing side by side with such beautiful people.
---
Young Leadership Award
Andrew Feldman joined TBEMC with his wife Lauren and children Ryan (now 14), Alex (10), and Paige (7) in 2017 with a desire to help strengthen the Jewish community in Cranford (and after some friendly lobbying from neighbor Lois Waldman and longtime family friends Becca & Adam Reissman).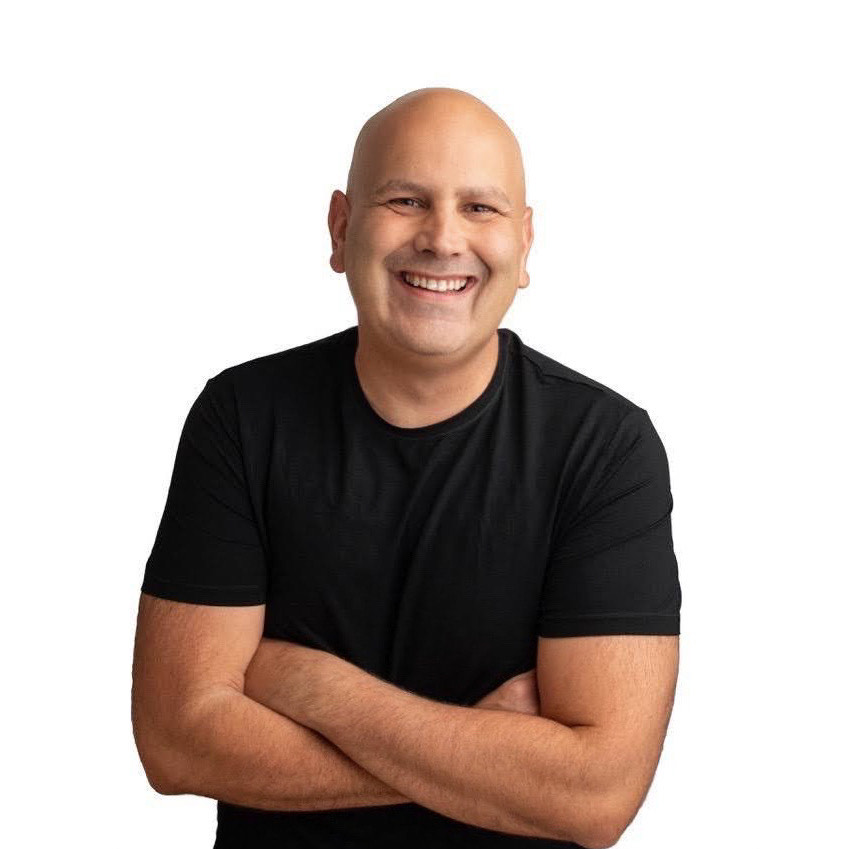 Andrew joined the Board of Trustees in 2019 and currently serves as TBEMC's first vice president. He chairs the Communications committee, where he develops or oversees all member and public messaging, including the temple's social media presence, weekly emails, website, and press outreach. His efforts have helped the temple reach significantly more people through Facebook (and now also Instagram), attracting new members and building TBEMC's identity in the community at large. In addition, Andrew serves on the High Holidays and Fundraising committees, and he co-led our Comedy & Craft Brews event in March.
You'll also find Andrew volunteering with the Cranford Jaycees, where he leads their communications efforts, and he uses his photography skills for their functions, as well as the numerous sports teams and school events that Ryan, Alex, and Paige participate in around town.
Andrew grew up in Southeastern Connecticut and graduated from The College of New Jersey, later earning an MBA degree from NYU Stern. Professionally, he has held leadership roles in marketing and e-commerce for Bloomberg, Mars, Mondelez, and currently Colgate's Hello Products division. A resident of Cranford since 2007, Andrew is excited to see the TBEMC community growing and strengthening, and he looks forward to building new memories.
---
Past President's Award
Laura Rubin and Harold Oslick Z"L, who served as Co-President from 2011 to 2013 and helped TBEMC rebuild after the destruction caused by Hurricane Irene, are this year's honorees for the Past President's Award.
Synagogue life was always a natural state of affairs for Laura for as far back as she can remember. She recalls the temple community in her hometown of Cleveland Heights, Ohio began before there was an actual building. When Laura was two years old, her parents were part of a group that founded a new Reform synagogue. Laura's father was so dedicated to synagogue life that if he was not home or at work, one was sure to find him in the temple.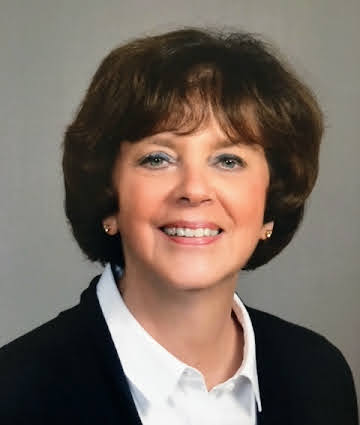 Laura began her Jewish education in pre-kindergarten and continued through her Bat Mitzvah; she was one of only two girls who became Bat Mitzvah that year. She then continued her Jewish education through to Confirmation with a class of about 60 students. Laura joined the temple's youth group, where she met Lenny Rubin, who was two years older. Her rabbi's son David nudged Laura into dating Lenny, and so their relationship began and stuck from then on.
Lenny found his life's passion as a teenager while attending a Jewish camp. It was there and then that Lenny decided his life and career would be devoted to ensuring Jewish children remained Jewish.
Laura, Lenny, and their daughter Michelle lived in Cleveland, then Tulsa, until 1978 when Lenny got a job in New York as the Jewish Welfare Board's national camping consultant. That move brought Lenny and Laura to Cranford where she became an interpreter for the deaf. Their daughter Michelle attended the Solomon Schechter Day School and the family joined Temple Beth El in 1980, because they wanted an egalitarian synagogue.
Laura first became active in our temple's Sisterhood where she held various positions including Sisterhood president in 1987. For many years she ran the Sisterhood raffle. Soon after she joined the Temple Board of Trustees, ultimately holding roles as corresponding secretary, membership chair, and first vice president.
In the early 1990s, Laura stepped back from temple leadership and took a hiatus when Lenny began a fifteen year battle with his illness. During much of that time, Lenny was able to work, and Laura worked full time as a teacher for deaf and developmentally challenged high school students. For several years Laura helped plan the temple's dinner dances, and with a group of friends wrote and performed songs as entertainment. Lenny was the MC for many of those occasions. Lenny passed away in 2007.
When Elliot Ballen became president, he asked Laura to help organize the cemetery committee. Soon Laura became corresponding secretary and restarted her leadership journey at TBEMC. Laura and Harold Oslick Z"L were installed as co-presidents in June 2011. Hurricane Irene hit Cranford on August 28, 2011 and TBEMC was part of the Ground Zero zone most impacted by the flooding. The major challenge during their tenure was remediating the damage caused by the flooding in the building. Laura took the lead in raising the funds needed for the repairs, while Harold took the lead on implementing the repairs and renovations. They held the co-presidency role until mid-2013.
Laura's fondest memories of TBEMC include her daughter Michelle's Bat Mitzvah and Rabbi Hoffberg and Cantor Nussbaum officiating at Michelle and Russ' wedding. She also fondly remembers the many friends they made and the relationships they built together through the years. For High Holidays, their circle of friends sat in the same seats year after year.
Laura moved to Pennsylvania in 2014 to be closer to Michelle, Russ and their family. Michelle and Russ have three fabulous sons (of course!): Jared, Todd, and Corey. All of them are wonderful young men.
She made a new life there but continued to maintain her connections to TBEMC with visits during the year and on High Holidays. During Covid those visits stopped, but Laura has kept her ties with TBEMC as a member, as a past president, and as a friend and part of our community.
Laura continues her passion for giving of herself to the community. Until last year, Laura had been a court-appointed special advocate for a special needs foster child who is now 23 years old. Laura continues to visit this young lady at her adult placement. Laura is a volunteer at the Nemours Children's Hospital in Wilmington, Delaware and reads to the babies in the NICU as part of a program called Baby Bookworm, to give them sensory stimulation. She is an active member of Congregation Beth Shalom and is on the Board of the auxiliary Kutz Senior Living Center, both in Wilmington.
Laura is thrilled and honored to be chosen for this recognition and pleased to be able to share it with Harold Oslick, Z"L.
---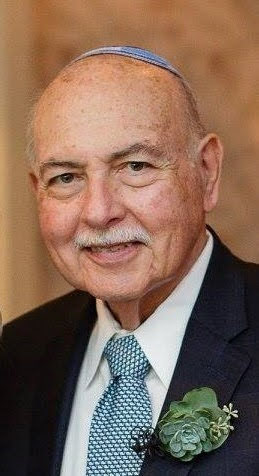 Harold Oslick Z"L was born in Philadelphia in 1935, and spent his early years in Strawberry Mansion. He did not eat strawberries and was not living in a mansion. Until his Bar Mitzvah, he slept in his grandparents' bedroom in a small row house. His parents engaged a tutor for his Bar Mitzvah. His grandfather, Max Schwartzman, had been walking with him to shul, B'nai Jeshurun, every Shabbos. One of his earliest friends was Jerome Perlish—they were life-long friends. He was also close with many of his cousins in the Fishman family who were active in the Conservative movement. Most of the Oslick family were and are active in Conservative synagogues.
Harold's parents moved to West Oak Lane, an area in north central Philadelphia. They arranged for his Bar Mitzvah at Emanu-El on Old York Road. He was the oldest of three brothers, who attended Hebrew School at Emanu-El. He went to Central High School, graduating in the 200 Class. For some of this time he was enrolled at the high school department of Gratz College. There he met Manny Reider, with whom he also became life-long friends, going to Central and Penn together. Manny's father, Dr. Joseph Reider, was the librarian at Dropsie College and his mother was a well-known Hebrew school teacher. Some of his friends joined USY at Temple Sinai and he joined with them. With Manny, he developed his hobby of photography.

Harold went to the University of Pennsylvania, Towne School of Civil Engineering, earning his B.S.C.E in 1957 and his M.S.C.E. in 1959. On a blind date during his senior year at Penn, arranged through his USY friends, Harold met Marlene, who was attending Temple University and Gratz College. The rest of that year was a whirlwind of social activities at Penn, culminating with Harold asking Marlene to go to the Ivy Ball with him. Two years later they were married. For his Aufruf, on the second day of Shavuot, he read the Haftorah.

His engineering career moved into the aerospace field with his first full time job, at North American Aviation in Columbus, Ohio. The Oslicks joined Agudas Achim, an Orthodox synagogue. This experience working on the Vigilante, a bomber, led to his being hired by Pratt & Whitney for the Connecticut Aircraft Nuclear Engine Lab (CANEL). They relocated to Hartford. Marlene was teaching at Beth-El in West Hartford, which provided them synagogue membership.

They moved to a larger apartment while their house was being built in Bloomfield. Harold was taking graduate courses at the Rensselaer branch at United Aircraft in East Hartford. He started looking into law school and was accepted at University of Connecticut in Hartford.
They joined Beth Hillel in Bloomfield, which was building its new temple. Harold was on the Building Committee. Harold started working for Combustion Engineering in the nuclear energy department in Windsor. This position required him to travel to California. He was going to law school three nights a week. It required lots of juggling to get to the meetings with Rockwell in the Los Angeles area. He must have taken law books to read on the planes, as he graduated first in his class.

Marci, Rochelle and Harvey were all born at Mount Sinai Hospital in Hartford, all with different addresses on their birth certificates.Harold began getting offers outside of Connecticut. In 1968, he settled on EBASCO Services at 2 Rector Street and we moved to Westfield. Because the local phone book was Westfield, Fanwood, Scotch Plains, we joined Temple Israel (now Congregation Beth Israel/CBI). Rabbi Simon Potok held the pulpit at the time. We made many new friends there. Marlene was asked to represent Temple Israel at the United Synagogue Education Committee meetings in South Orange. There she met Stu Kaback who was representing Beth-El. They were tasked with preparing a curriculum for students attending synagogue schools after public school. This curriculum was successfully used for several years. Harold was asked to be on Temple Israel's school committee.

Their son Jeff was born at Overlook in Summit in 1969, and Harold read Noah on Yom Kippur. Their daughters attended JTS's Prozdor, with the weekday class at Beth-El in Cranford. When Harvey saw how happy the students were coming out of Beth-El around 6 PM, he asked why he couldn't go here. By then Marlene met Marilyn Kaback. Marilyn had helped Marci borrow books from the Beth-El library for Prozdor homework assignments. In 1977 the Oslicks moved their synagogue affiliation to Beth-El. It didn't take long for Harold to be approached to be on a committee. Their daughters went on USY Pilgrimage to Israel that summer and began getting acquainted with the participants from Cranford. The parents had already bonded when the kids were at Kennedy airport waiting for their flight to Israel, and they heard of a bus at the airport being hijacked. They were already old friends by the time the kids returned.

In 1982, Harold was offered the project manager position in Seoul, Korea. They went there in August to check out the situation. There was an interesting Jewish community, centered on Yongsan Army base. Rabbi Philip Silverstein was the chaplain. M-A-S-H was popular. They secured housing for the group working for Harold, enrolled Jeff in the Seoul International School and Marlene was accepted to be a substitute teacher. This was nice for them because she was certified to teach math and science. The school is accredited by Western States: Hawaii, Washington, Oregon, Alaska. Once they finally moved, Rabbi Silverstein asked Harold to be part of the Bet Din of Korea. Marlene was asked to be a witness at the Mikvot during conversions. In Korea, many resorts are built near natural hot springs. They have separate large pools for men and women, where the water is drained each evening and refills overnight. Rabbi Silverstein arranged an early private opening when they needed a mikvah, and they could use the pool privately before it was open for everyone else. Caution, the water is very hot!

For Harold at TBEMC, one job led to another and before they knew it he was treasurer. He moved up the ranks until he was co-president. He annually read one of the Haftorahs on Rosh Hashanah, alternating with Stan Schneider, son-in-law of H. Martin Friedman. Harold did several Haftorahs readings, sometimes the second day of Shavuot and also for Jeff and Steph's Aufruf.

While serving as co-president, problems kept appearing which needed Harold's attention. He worked closely with Mary Metzger. First was lighting in the sanctuary. Then the HVAC system. Later was security. Having worked in the nuclear industry and having a Q clearance, he understood what you do not discuss for safety's sake. He worked very hard to get grants for elements of the security systems. He had a good working relationship with Mr. Wilson, security chief of Federation, and with Laura Rubin, his co-president. The final problem was the most significant: the flooding of Hurricane Irene, which caused significant damage to the shul. Harold took the lead on implementing the extensive repairs and renovations.

As if this were not enough to keep him busy, he pursued boating as a challenge. He joined the United States Power Squadron and took all the courses for Senior Navigator, Full Certificate. He also taught many of the courses. He moved up the ranks on the local Watchung Squadron bridge (think: board), became Squadron Commander and then was on the District bridge to become District Commander of District 4, covering most of New Jersey and New York City. He was District Commander when the National meeting was in New York at the Grand Hyatt, an intense week of meetings, entertaining, theater performances, and sightseeing.

Harold completed his engineering career as project manager of light rail construction from Bayonne through Jersey City to the Vince Lombardi Park and Ride on the Turnpike.

He passed on March 25, 2021, still serving on the Board of Trustees and the House Committee in the years before his passing. His memory lives on through his years of service to TBEMC and through his family: wife Marlene; their children, Marci Welsher (Philip), Rochelle, Harvey (Deborah), and Jeffery (Stephanie); his brothers, Jerome (Eileen) and Barry (Pearl); six grandchildren; two great-grandsons; and nieces and nephews.
---
Tikkun Olam Award
David and Sandy Springer have been members of Temple Beth-El Mekor Chayim since 1986. David has served TBEMC in numerous roles, including as president, vice president, corresponding secretary, ritual chair, House Committee chair, High Holiday chair, and member of the temple's Board of Trustees and Board of Education. He has also been a long time member of the Men's Club.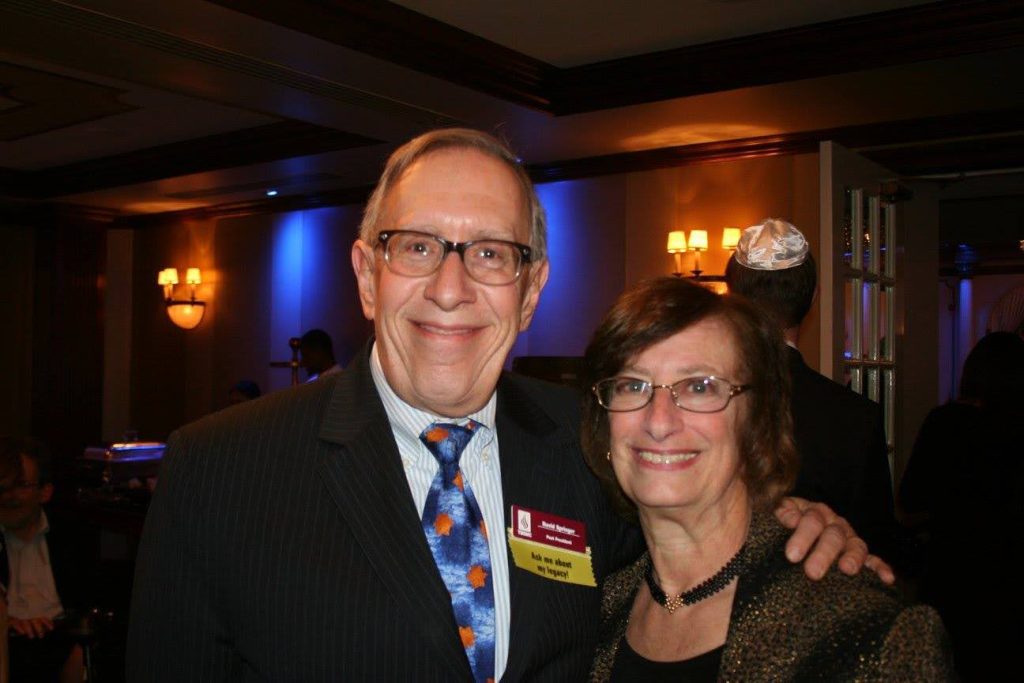 David has chaired many TBEMC events and programs, most recently the Create a Jewish Legacy Program, where he helped actively enroll 86 people who have or will provide future gifts to TBEMC upon their passing. TBEMC has been recognized multiple times for having the most participation in the Jewish Federation of Greater Metrowest region, even though this shul is among the smallest in size in the program. David deserves much credit for this dedication and success. He is also proud to have co-chaired Project Etz Chayim, the first capital campaign held by TBEMC since 1960, which raised one million dollars and enabled the shul to undertake major renovations and create endowments for future programming that is still being used today. David was also integral in the merger with Mekor Chayim in 1998. He continues to play an active role at TBEMC, making calls and visitations to congregants and sending daily reminders for evening minyans.
In his non-shul life, David is a practicing attorney in Cranford and is also involved in other charitable endeavors, such as running food and coat drives for the homeless. He volunteers at the Junior League's Jumble Store in Cranford. He served for 25 years as a member of the Cranford Council of United Way, including as president. He has spent his lifetime striving to do good deeds and setting an example for others.
Sandy has been an active member of the Board of Trustees for many years and is currently Sisterhood co-president for the second time. She has served many times as a member of the Nominating Committee, headed the Personnel Committee for numerous years, volunteered her time in the temple office, and has taken a leadership role in nearly all of TBEMC's major fundraising efforts in the past 15 years, including the galas and three Goods & Services Auctions. She has chaired the Commemorative Tile Project since its inception. The tiles honoring and memorializing loved ones greet those visiting the shul from the outside steps in front of the building.
Professionally, Sandy has held various jobs with mostly non-profit organizations. She has been a long-time member of the Junior League of Elizabeth/Plainfield and volunteers with its Jumble Store. She is a former president of the Cranford Newcomers' Club. Sandy has always encouraged others to get involved with doing good things and participated in many of the charitable projects undertaken by David. She is a strong positive force who has made a difference in the community throughout her life.
David and Sandy met as students at Rutgers University. They have lived in Cranford for more than 40 years and have two grown sons, Steven and Daniel, lovely daughters-in-law Ariella and Kristen, and six beautiful grandchildren: Evelyn, Jacob, Leah, Nathaniel, Gavin, and Gabrielle. They particularly enjoy it when their grandchildren join them at TBEMC events like the High Holidays and Purim, and Purim-goers look forward to seeing the local grandkids chanting Megillah as the proud grandparents look on. Both David and Sandy enjoy traveling and can share stories from their extensive trips within the U.S. and to many other countries.