Hebrew has three ways to refer to a synagogue: Beit Tefilah (House of Prayer); Beit Knesset (House of Assembly); and Beit Midrash (House of Study). The TBEMC Lifelong Learning Committee is committed to creating a Beit Midrash for our community by providing congregants opportunities to connect with each other while exploring historical, cultural, and religious aspects of Judaism.

Even during these challenging times of COVID-19, we have come together through Zoom to learn from noted experts in their fields and from each other – in the weekly Thursday morning classes, monthly Book Club, and special events.

We have several upcoming events planned! Look in the weekly email or our online calendar for the latest.
---
Recent events from the Lifelong Learning Committee:
March 31, 2022 at 8:00 PM: Rabbi Neal Scheindlin on "The Jewish Family Ethics Textbook"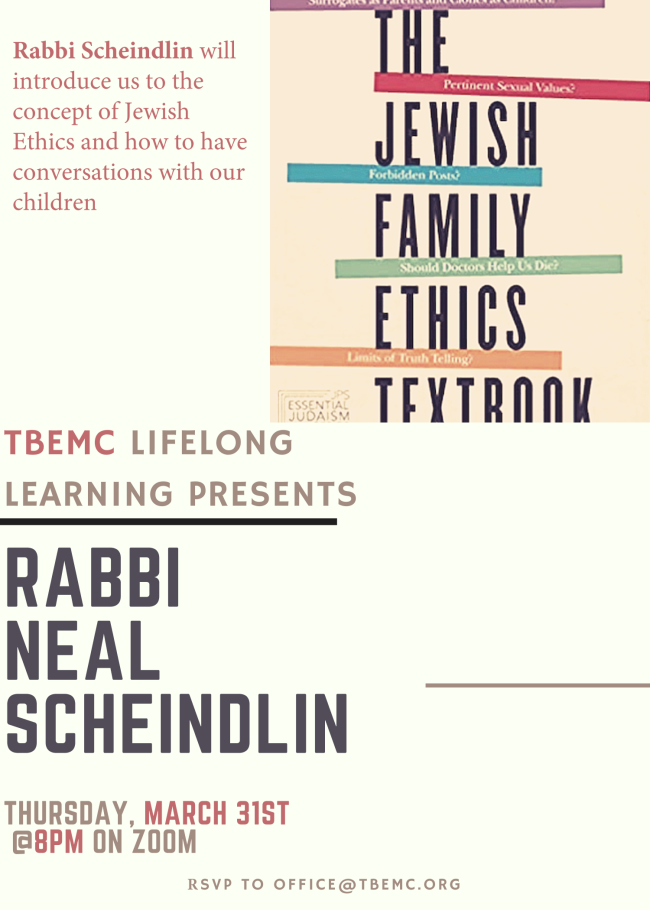 January 2022: A Virtual Tour of Jewish Paris –
From the comfort of our homes, we will take a guided tour of:
• Le Marais: main Jewish neighborhood in Paris
• Place des Vosges
• Hotel de Sully
• Famous synagogue of Hector Guimard
• Oldest synagogue in Paris
• Musée Carnavalet (exterior)
• SHOAH Holocaust Memorial & Museum
• The History of the Paris Jewish Community
• Stories from Holocaust survivors and their families
August 2021: "The Art of Jonah's Flight" by Rabbi Matthew Berkowitz, exploring the first chapter of the Book of Jonah.
September 2019: "How to Appreciate the High Holy Days: The Important Themes, Prayers and Customs of Rosh Hashana and Yom Kippur" two-part series presented by Rabbi Kerbel
2019-2020: The Jewish Connection to Comedy Film Series:
"The Frisco Kid"
"Brighton Beach Memoirs"
"Biloxi Blues"
"Broadway Bound"
"Keeping the Faith"

Fall 2019: "Why the Jews": An Exploration of the Anti-Semitism Throughout History and What to Do About It" two-part series presented by Rabbi Paul Kerbel
Fall 2019: Thursday morning class – "Message of the Prophets" class, led by Rabbi Kerbel
November 10, 2019: Scholar-in-Residence Program: Professor Jack Wertheimer, Professor of American Jewish History at the Jewish Theological Seminary. Two lectures: "Jews on the Move: How Migrations Have Remade American Jewish Life" and "The Good News about American Judaism."
December 15, 2019: Trip to See "Fiddler on the Roof" in Yiddish in NYC with dinner at Ben's Deli
January – June: Thursday morning "Torah Classes" with Rabbi Kerbel
June 10, 2020: Zoom Webinar: "COVID-10 Pandemic: An Overview of Federal and New Jersey State Response, the Impact on the Jewish Community, and Opportunities for Advocacy," led by Joshua Cohen, Director, Government Relations & External Affairs, Jewish Federations of New Jersey
July: Thursday morning classes "Book of Psalms" – led by Jerry Baranoff
July 16, 2020: Zoom Discussion: "Racism, Anti-Semitism, Black Lives Matter and the Jewish Community" led by Melanie Roth Gorelick, Senior Vice-President, Jewish Council for Public Affairs and Jim Johnson, Corporation Counsel, City of New York
July 23, 2020: Thursday morning class, "Book of Job" led by Jerry Baranoff and Neil Mayer
September 3, 2020: Zoom discussion "The View from Federation: Response to the Pandemic in New Jersey, the United States and the World" led by Dov Ben-Shimon, CEO, Jewish Federation of Greater MetroWest NJ
October 15, 2020: Zoom Presentation: Rabbi Dan Ornstein discussed his new book "Cain v Abel: A Jewish Courtroom Drama"
November 12, 2020: Zoom Presentation: Professor Amy Kalmanofsky, Dean, List College, discussed her book "Dangerous Sisters of the Hebrew Bible."