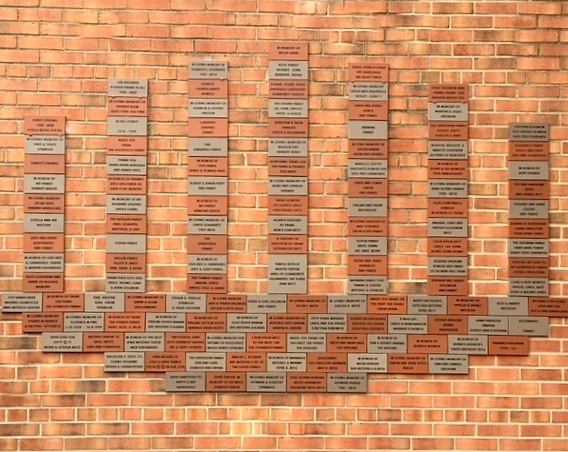 The following tributes are available for you to memorialize a loved one, honor a friend or relative, or celebrate a special occasion:
Commemorative Tile ($180) – Commemorate a milestone such as a special birthday, anniversary, new baby, b'nai mitzvah, or retirement– or honor a loved one–with a commemorative wall tiles on the outside of our temple by the entrance.  You may have three lines of text and twenty characters in each line. See a close-up picture below.

If you would like more information or have questions,
contact Sandy Springer at (908) 507-3291 or email sprfamly@verizon.net.
Memorial Wall plaques ($360) – Remember your loved one with a plaque displayed on the sanctuary wall. Plaques are lighted during Yizkor services and on the observance of Yahrzeit. Plaques may be reserved in advance. Every effort is made to accommodate your choice of location.
Memorial Wall column ($3600) – Dedicate an entire column on the Memorial Wall.
Tree of Life Simcha Leaf ($150) – Honor or thank a friend or relative, or celebrate a special occasion by dedicating a leaf on the tree in either the main or lower lobby. The honor will be announced to the congregation, and the recipient will receive a certificate.
Contact the Temple Office (908-276-9231) for more information about plaques and simcha leaves.
Honorees of all donations and tributes receive a card to acknowledge their contribution.