Rabbi Paul Kerbel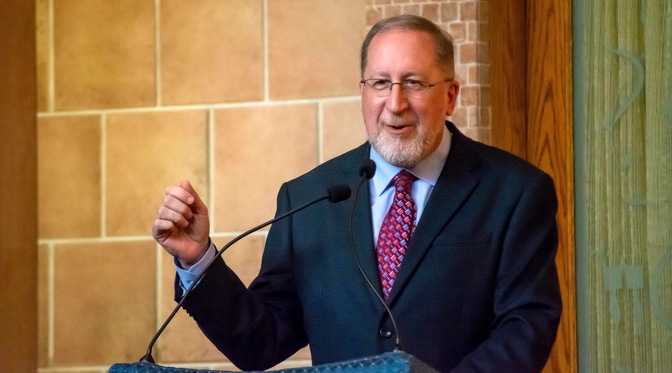 We welcome Rabbi Paul David Kerbel to Temple Beth-El Mekor Chayim. Rabbi Kerbel brings a wealth of experience and practice to our congregation, serving congregations large and small, both as a senior rabbi and associate rabbi during his career.
Born in Philadelphia, Rabbi Kerbel was raised in New Orleans, Louisiana, Rochester, New York and Hollywood, Florida. Rabbi Kerbel's father Bob served as a Jewish communal professional in these communities, and his mother Ruth as an active lay leader in the communities and synagogues in which they lived. His parents imbued in him the importance of interweaving commitment to the synagogue, community and Israel.
Rabbi Kerbel was ordained by the Jewish Theological Seminary of America in 1985, receiving the Isaac H. Wolfson Award for Dedicated Service to JTS during his four years of undergraduate and five years of rabbinical school experience at JTS. He was awarded a Doctor of Divinity degree in 2011 for dedicated service to the American Jewish community.
Rabbi Kerbel and his wife Melissa are the proud parents of Sam and Aliza who live in New York City, Rabbi Judah and Eliana who also live in New York City, and Micha, a recent graduate of The Ohio State University, who works for The American Jewish Committee in Washington, DC. Melissa serves as the East Coast Director of the American Friends of the Israel Philharmonic Orchestra.
Rabbi Kerbel serves as the Rabbinic Campaign Chair of the Schechter Institutes, Israel's leading pluralistic academic institution, and as a senior member of the Global Jewish Community Committee of UJA Federation of New York. He is a member of the New York Board of Rabbis and an active supporter of the Anti-Defamation League, AIPAC, and Friends of the Israel Defense Forces. He looks forward to becoming involved in the Jewish Federation of Greater MetroWest, the New Jersey Rabbinical Assembly, and area Boards of Rabbis.