Rabbis Neil Tow and Rachel Schwartz
Rabbi Neil Tow previously served as a rabbi at the Woodbury Jewish Center for two years and at the Glen Rock Jewish Center for nine years. He recently completed his Masters in Jewish Education at the Jewish Theological Seminary studying the application of the Orton Gillingham reading method to teaching Hebrew.
Rabbi Rachel Schwartz worked as a mashgiach (Kosher food inspector) at Ben's Kosher Delicatessen in Woodbury, NY. Previously she served as an interim rabbi at Kesher Zion Synagogue in Reading, PA and was a hospice chaplain for 5 years.
They both studied at the Jewish Theological Seminary in NYC. During their studies they spent a year learning at Machon Schechter in Jerusalem. Rabbi Neil has one unit of clinical pastoral education earned at the Children's Hospital in Washington D.C. Rabbi Rachel has 3.5 units of CPE earned at Valley Hospital in NJ, North Shore University Hospital in NY, and Norwalk Hospital in CT. Rabbi Neil is a graduate of Tufts University (Summa Cum Laude, Phi Beta Kappa). Rabbi Rachel graduated from Wellesley College. They have two children – Dara (10) and Micah (6), and a dog – Simba Tzeddakah Box Tow.
They are looking forward to getting to know the TBEMC Family! If you are coming to TBEMC please contact them, they would love to welcome you and host you for a Shabbat meal.
Michael Herman, Religious School Principal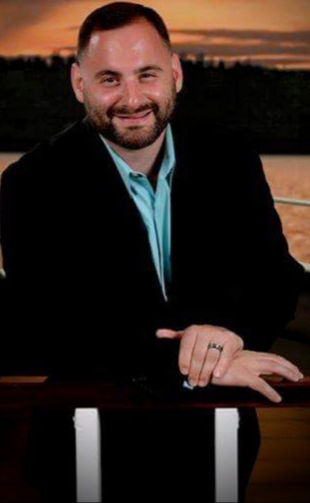 Mr. Michael Herman has served in the field of education for the past seven years. He holds a Bachelor of Arts Degree in History from Stony Brook University and Masters Degree in Education from Mercy College. In addition, he acquired a New Jersey Supervisor Certificate from Rowan University in 2016 and most recently attained a New Jersey Principal Certificate through the New Jersey Foundation of Educational Administration (FEA). Currently, Mr. Herman is a special education and social studies teacher at Franklin High School in Somerset, New Jersey, where he teaches a variety of courses within the social studies content area. He has been involved with a number of school committees and school improvement projects throughout his career including Positive Behavior Support in Schools (PBSIS), technology integration, curriculum design, and teacher professional development. Mr. Herman is a product of Jewish education as he attended several Jewish day schools in New Jersey from kindergarten through eighth grade and graduated high school from the Hebrew Academy of Five Towns in Long Island, New York. Mr. Herman is especially excited to have joined the TBEMC community and looks forward to an exciting year of Jewish learning for the upcoming 2018-19 academic year.