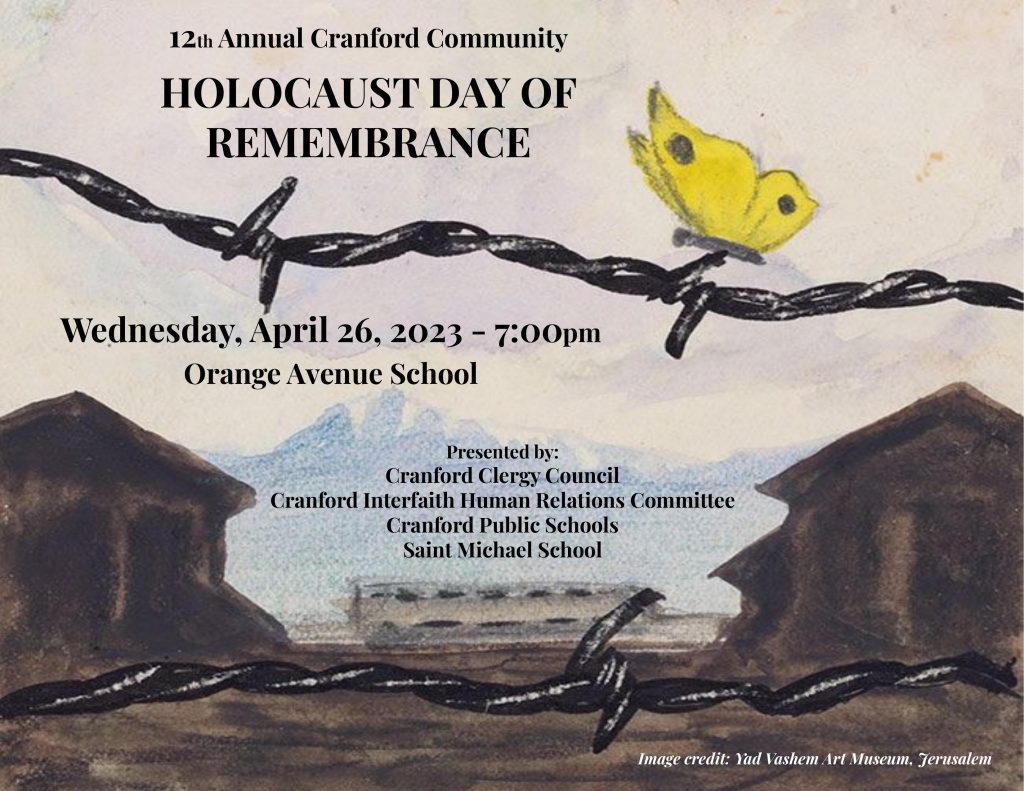 Cranford's 12th Annual Community Holocaust Day of Remembrance will be held on Wednesday, April 26th at 7:00 pm at Orange Avenue School.
The annual town wide event is organized by the Cranford Clergy Council, the Cranford Interfaith Human Relations Committee, Cranford Public Schools, and Saint Michael School, and it aims to honor the memory of the six million Jewish victims of the Holocaust while educating about the horrors of genocide.
The featured speaker this year will be Maud Dahme, a passionate advocate for Holocaust education who is herself a survivor. Born in the Netherlands, she spent the entire German occupation in hiding with her sister and was saved from the Nazi death camps by a courageous Christian family who looked after the two of them.
Rabbi Paul Kerbel of Cranford's Temple Beth-El Mekor Chayim synagogue and president of the Cranford Clergy Council will introduce the speakers and performances, which include Cranford Township Mayor Brian Andrews and Cranford Public Schools Superintendent Dr. Scott Rubin. Performers include the Orange Avenue School orchestra, the Hillside Avenue School chorus, an original dance by the Cranford High School Performing Arts Dance Academy and original poetry written by Saint Michael School's students.
In November, Orange Avenue School planted a daffodil garden as part of the Worldwide Daffodil Project, a global effort to plant 1.5 million daffodil bulbs to honor the memory of each child who perished in the Holocaust. Similar gardens have been planted at Hillside Avenue School, Cranford High School, Saint Michael School, and Temple Beth-El Mekor Chayim's Holocaust Remembrance Garden.
This event is free and open to the public. It will also be recorded and aired on TV35.