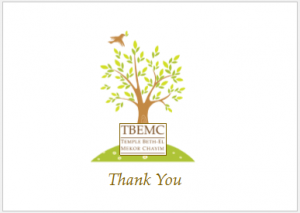 In 1999, for the first time in nearly 40 years, TBEMC undertook a fundraising campaign to create a capital fund which would be there to enable us to modernize our building, and an endowment fund which would help support worthwhile programming previously underfunded or not funded at all. Over 80% of the congregation took part in that effort, raising ONE MILLION DOLLARS! As we approach the New Year, we should take a moment to reflect that because our congregation cared so much, and donated so generously, we were able to complete the following capital projects in the intervening years:
Upgrading of the religious school wing including updated classrooms, lighting, flooring and equipment
An upgraded lower lobby
New Sanctuary lighting
New Sanctuary sound system
New roof
New windows throughout the building
New Heating/AC systems in the building
A refurbished Cantor's Office
A refurbished Temple Office and Library
A new accessibility lift
A new parking lot
Torah refurbishment
Our endowment funds have assisted numerous Temple children to attend camp, USY events and summer programs, and educational opportunities. The endowment funds have helped support Jewish Music by bringing great programs to TBEMC. Over $700,000 has been distributed for capital and endowment grants to date.
As we look forward to the New Year, it is comforting to know that nearly $375,000 in endowment funds still remain because of prudent investment over time. Soon, our initial dream of full building accessibility will come one step closer as we begin the renovation of our main floor bathrooms.
We will look to you, our congregants to help us achieve that dream.
David Springer, Project Etz Chayim co-chair