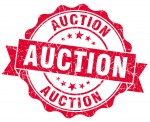 Beat the winter blues at the TBEMC Goods and Services Auction on Saturday, February 28, 2015 at 7:30PM.
Featuring live and silent auction and tricky tray, raffles, dairy noshes and adult drinks.
Something for everybody, sports memorabilia, autographed books, spa packages, family fun events, gift baskets, boat rides, timeshares, restaurant certificates, golf foursomes, professional services and more.
For those of you attending the Goods & Services Auction on February 28, the following is a preview list of items which may be auctioned live. If you are not attending and wish to bid on any item listed, contact someone who will be attending and give them the # of the item and your maximum bid offer. They need to pay for the item that night and you will have to make arrangements to reimburse them. Any questions? Contact Dave/Sandy Springer at 908-507-3291.
Tote It Around. A beautiful Michael Kors tan leather zip tote with interior pockets and a key fob donated by a Friend of TBEMC.
Make It and Enjoy Eating It. In your home, cooking demonstration/participatory dinner for six adults lead by a graduate of the French Culinary Institute of NYC on a mutually agreed date. The demonstration is approximately 1 ½ hours, then it's time to eat the dinner you helped prepare. Dinner includes kale & chickpea salad; de-boned lemon chicken over herb infused onions, butternut squash risotto, green beans, & rosemary foccacia. Dessert will be banana bread pudding. Recipes provided. Donated by Charlie & Mary Macksoud.
See you at the J. Enjoy all the J offers with this one-year membership for The JCC in Scotch Plains. Donated by the JCC.
Pizza Pizza. Pick up one kosher pizza pie a month, for a year. Donated by Jerusalem Pizza of Elizabeth.
Gang Green…We Try Harder. Two tickets to a late season NY Jets game Sec 338, row 9. Includes parking pass. And just for fun… Jets license plate frame. Donated by Neil Mayer & by Dave & Gail Salomon.
Deli for a Crowd. Kosher deli meat buffet for 10 people with all the fixings including salad & bread. Donated by Deli King of Clark.
A Night with Friends. A five-course Chef's dinner for six adults with wine pairings at Verve Restaurant in Somerville.
Share your Simcah. Sponsor a Friday Night Oneg to celebrate your Simcha here at TBEMC after Friday night services; dates subject to availability; coordinate with the Temple office. Donated by TBEMC.
Mazel Tov. Beautiful Lladro bride & groom figurine that has been retired from production. Donated by Aaron & Stacy Turnof.
Sing, Sing a Song. This is a great way to celebrate a special occasion or a party with friends… a family sing-along in your home lead by Cantor Kintisch with his guitar, on a mutually agreed upon date. Donated by Cantor Ben Kintisch.
Endless Vacation Enjoyment. Own a RCI Vacation Timeshare for life; Owner's unit is located at Oasis Lakes at the Fountains in Orlando, Florida & has 2 bedrooms/2 bathrooms & sleeper sofa; sleeps 6. Or you can book the location of your choice, in the USA, Canada, Mexico, Caribbean, or elsewhere through RCI; RCI fees paid for 2015. Cost to transfer title of property approximately $500. 25 point RCI value. Donated by Chris & Walter Piatkowski.
Al Fresco Wine & Dine. Three-course fish or kosher chicken Bar-B-Q dinner for ten adults with dessert around the firepit in a beautifully landscaped yard on a mutually agreed date. Newly released Sidebar Cellar wines from Ramey Vineyards included. Donated by Michael & Joy Weinstock.
You Ought to Be in Pictures. Nikon 16 GB bundle DX-format digital SLR kit with18-55mm DX VR zoom lens; compact deluxe gadget bag; 3 piece lens cleaning kit; piece of micro fiber cloth; 52mm UV, polarizer & FLD deluxe filter kit (3+carrying case); DX-format digital SLR kit w/18-55mm DX VR Zoom lens; and class 10 UHS-1 R40 memory card. Donated by Aaron & Laura Cohen.
Merlot for Many. Bottles of hand signed Meeker wines.
Boston Bound. Two-night weekend stay with breakfast at the Marriott Copley Square. TWO WINNERS and restaurant choices TBA.
Day in the Vines. Enjoy a tour of the organic vineyard for eight adults, then join your representative in the residence for a wine tasting coupled with hot and cold hors d'oeuvres. Donated by Villa Milagro Winery in Finesville, NJ.
Music at NJPAC. Two orchestra seats for performance of your choice for NJ Symphony Orchestra, based upon availability (expires June 7), invitation to attend a reception during intermission, and a CD of Carmina Burana music. Donated by NJPAC.
Restore the Magic. Enjoy an overnight stay at The Madison Hotel for two people. Package includes Guest Room, $70 dinner gift certificate to Rod's Steak and Seafood Grille or room service; bottle of house champagne, & four chocolate covered strawberries delivered to your room; complimentary continental breakfast served in lobby. Dates subject to availability & certificate details. Donated by The Madison Hotel
Arm Candy. A stunning Michael Dawkins sterling silver peridot bracelet. Donated by Walter Bauman Jewelers.
Shabbos Dinner. Enjoy a delicious traditional kosher Shabbat meal for eight people delivered to your home. Meal includes soup, chicken, side dish, and dessert. Donated by Pomp Caterers of Morristown.
Disney Day. Four 1-day Hopper Passes for Magic Kingdom, Epcot, Hollywood Studios, and Animal Kingdom in Orlando, Florida; hop between parks. Expires in 2 years. Donated by Walt Disney World. A framed commemorative pin of Disney Cruise ship. Donated by a Friend of TBEMC.
Making Motzi. One KOSHER challah per week for year donated by Bovella's Pastry Shop in Westfield.
We Love our Mets. Four field level seats for Mets vs. Washington Nationals on May 3 donated by the NY Mets; a Mets pillow donated by Steve & Tammy Merman; a Mets baby toy donated by Kristen Wilczynski.
Something is Fishy. Kosher smoked fish buffet for 10 people including bagels, fish, cheese & salads. Donated by Deli King of Clark
Say Cheese. A gourmet cheese tasting for sixteen people in your home by the Wine Library with a personal cheese monger to explain what you are tasting. Also $75 gift card for your use from Total Wine.
Simcha Celebration. Sponsor a Shabbat Kiddush to celebrate your Simcha here at TBEMC after Saturday morning services; choose from Italian, Mediterranean, or Bagel & a shmear; dates subject to availability; coordinate with the temple office. Donated by TBEMC.
Dance the Night Away. Have an upcoming event and you want to learn or improve your dance skills? Fred Astaire Dance Studio in Westfield is offering a dance lesson package which includes two private lessons, two group lessons, and one dance social.
Day in DC. Spend the day in the nation's capitol as a guest of Congressman Leonard Lance (Republican), the U.S. Representative for New Jersey's 7th congressional district, serving since 2009. Six people are invited to the public tour of the East Wing of the White House at 7:30am, Tuesday-Friday; then join a guided tour of U.S. Capitol; and have lunch in the U.S. Capitol "Members only" Dining Room with Congressman Lance. There are also six passes to the Holocaust Memorial Museum donated by the museum.
By the Sea. One-bedroom condo 100 yards from Long Branch beach; Monday-Friday, your choice of week during July or August by mutual agreement. Condo has a queen size bed & pull-out sofa; sleeps 4. Includes 3 beach badges & beach chairs. Walking distance to Pier Village and the Long Branch Train Station. Donated by Don Shapiro & Nancy Lubarsky. A $50 gift certificate to Wine Loft Restaurant. Two 1-hour passes to Silverball Museum.
Mid-Eastern Meal. Sephardic Shabbat kosher dinner for 12, poolside at Allen & Julie Barkin's beautiful home. Enjoy a traditional Sephardic meal on a mutually agreed date either Friday night or Saturday afternoon in July or August. Sip some wine or a frozen mango mojito while sitting by the pool or in the hot tub. Donated by Allen & Julie Barkin.
Take a Seat. Enjoy home office comfort with "Diffrient" designer World Task ergonomic office desk chair; grey mesh seating, adjustable to all body heights & types. Donated by Humanscale Corporation.
Fruit of the Vine. Three signed bottles of wine (750ml), a cookbook, and hat donated by Cakebread Cellars.
533. Napa Nights & Days. Three night stay in Marriott Napa Valley with breakfast; two overnights with private tasting at Caldwell Vineyards. Also, a walking tour of olive tree grove & vineyards followed by wine & olive oil tasting for 6 people at R. Cohn Winery. Certificate for two people for dinner on the Napa Valley Train ride.
Wine Around. A pair of tickets to attend the 10th Annual NJ Harvest Wine Festival on Friday, November 6 from 7-10pm at the Short Hills Hilton. Donated by NY Wine Events.
Golf in Union County. A foursome with cart donated by Galloping Hills Golf Course; golf foursome with cart, Monday-Thursday donated by Hyatt Hills Golf Course; and 1-hr lesson with Leo Tabick, PGA professional, donated by Golf Performance Academy in Clark. Golf jackets included, assorted sizes, donated by Gary Daniel.
In the City. Overnight stay at the boutique NYC Greenwich Hotel, two tickets to see Blue Man Group (Sunday-Thursday prior to 8/2/15), two tickets to see Stomp at the Orpheum Theatre (prior to 8/28/15, not Fri, Sat night or Sun 5:30pm show), and a $200 gift certificate to Acappella Restaurant.